Handheld communicators
Handheld communicators for commissioning and maintenance of field devices
Field Xpert field communicators are ruggedized mobile computers that allow easy local access to field devices via Bluetooth or Wifi. Designed for use with HART and FOUNDATION Fieldbus devices, they can be used to set-up, trouble-shoot and analyze devices. Depending on version, they can also read wireless RFID NFC device identification tags. Field Xperts also connect to Endress+Hauser's device data base, allowing device manuals, certificates and calibration data to be downloaded on site.
Handheld communicators
Our product finder helps you to search for suitable measuring devices, software or system components via product characteristics. Applicator leads you through an individual product selection via application parameters.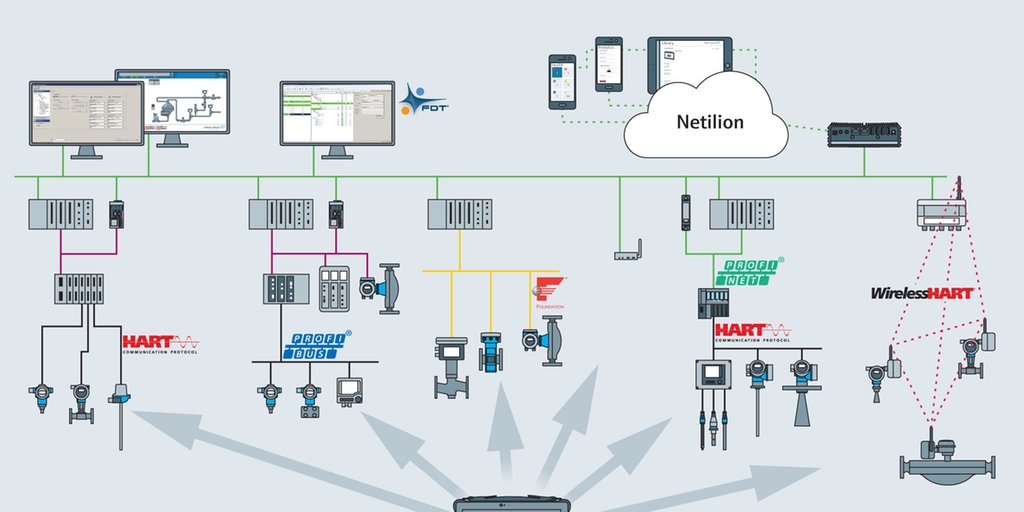 Operating principle: Device connection
Field Xpert connects to a field device in one or two ways. For a field connection, either a HART or FF/Bluetooth modem is used. For a network connection a Wifi interface is required and the device is accessed via an FOUNDATION Fieldbus or HART gateway. A USB interface allows device configuration data to be archived on a computer.
Device Xpert configuration software
Field Xperts can be equipped with HART and/or FOUNDATION Fieldbus Device Xpert software. In addition to device configuration this allows device diagnosis according to the NAMUR NE 107 standard and comparison of configurations. Access to Endress+Hauser's device data base allows the download of manuals and other device life-cycle data. Device driver (DD) libraries are kept up to date automatically.
Fordele
Quick and easy commissioning in the field

Concise device diagnosis with cause and remedy information (NAMUR NE 107)

Archiving of device configurations for future comparison

Online device life-cycle data, e.g. manuals and certificates

Remote identification of devices using RFID NFC tags