iTEMP TMT180
Temperature head transmitter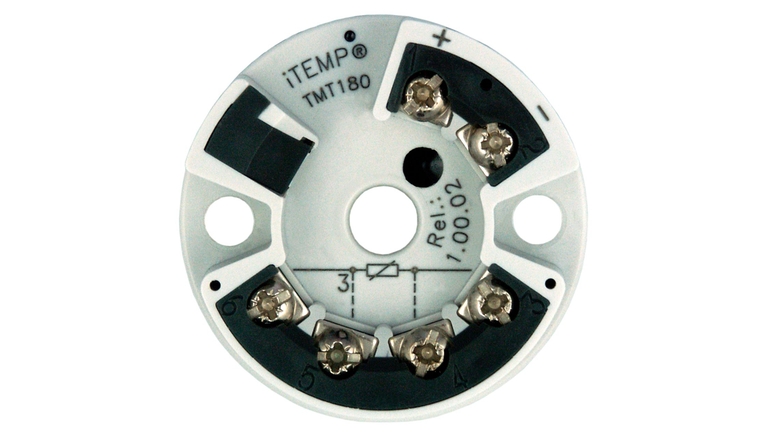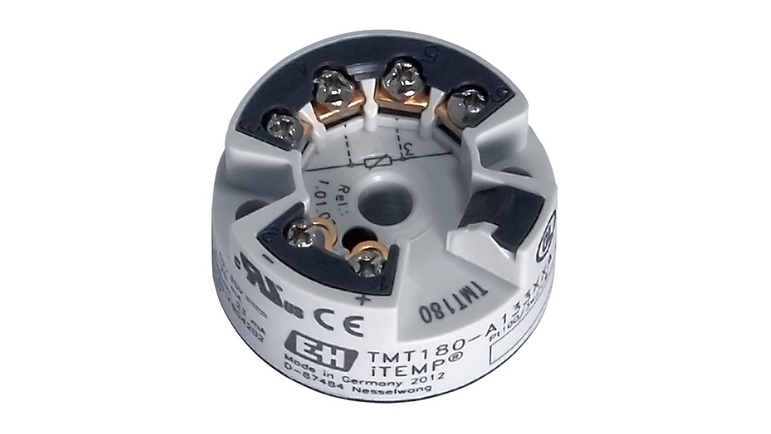 Transformation of the sensor signal into a stable and standardized output signal for all industries
The transmitter is designed for the transformation of an RTD Pt100 sensor signal. Various measurement ranges are configurable. The standardized output signal used for process measurement is a 4 to 20 mA signal. This means a fast, easy and cost-saving temperature measuring as well as reliable and precise measured values for for a wide range of non-ex industry applications.
Enkle produkter

Nemme at vælge, installere og betjene
Teknisk ydeevne
Enkelhed
Standardprodukter

Pålidelige og robuste med lav vedligeholdelse
Teknisk ydeevne
Enkelhed
Avancerede produkter

Funktionelle og praktiske
Teknisk ydeevne
Enkelhed
Specialiserede produkter

Designet til krævende applikationer
Teknisk ydeevne
Enkelhed
FLEX valg
Teknisk ydeevne
Enkelhed

Fundamental

Få dækket dine basale målebehov

Teknisk ydeevne

Enkelhed

Lean

Administrer nemt dine kerneprocesser

Teknisk ydeevne

Enkelhed

Extended

Optimer dine processer med innovative teknologier

Teknisk ydeevne

Enkelhed

Xpert

Til de mest udfordrende applikationer

Teknisk ydeevne

Enkelhed
Oversigt over specifikationer

Accuracy

Pt100, -200...650 °C (-328...1.202 °F) <= 0.2K / 0.08% span
Pt100, -50...250 °C (-58...482 °F) <= 0.1 K /0.08% span
Pt100, -50...250 °C (-58...482 °F) <= 0.2 K /0.08% span
Loading alternative products
Hurtigvalg
Vælg blandt de foreslåede muligheder
Individuel konfiguration
Fortsæt dit valg blandt alle muligheder
Yderligere komponenter

Fordele

High accuracy in total ambient temperature range

Fault signal on sensor break or short circuit, presettable to NAMUR NE 43

EMC according to NAMUR NE 21, CE

Online configuration during measurement using SETUP connector

Customer specific measurement range...
Anvendelsesområde

PC programmable (PCP) temperature head transmitter for converting a Pt100 input signal into a scalable 4 to 20 mA analog output signal

Input: Resistance thermometer (RTD) Pt100

Online configuration using PC with configuration kit and PC software
Dokumenter / Vejledninger / Software
Tilbehør / Reservedele
The unit is not repairable

Spare part set for TMT181/187/188/182

(4 screws, 6 springs, 10 spring rings)

Adapter DIN rail mounting

Clip according to IEC 60715 for temperature head transmitters. Packing unit: 2 pieces

Configuration Kit TXU10

for PC-programmable devices. set-up programme+interface cable for PC with USB-Port.

Readwin 2000 Operation + Read. software

Field Housing

Application: E+H Head transmitter. Housing: Alu IP66, 100x100x60mm.
Succeshistorier
Medicinske autoklaver

Ny sensorteknologi muliggør automatisk rekalibrering og fjerner risici i forbindelse med batchsterilisering. Læs mere!

Rent vand er kraftværkets blod

Amagerværket er afhængigt af helt rent vand til sin kraftvarmeproduktion og til rensning af røggas. Vandrensningen foregår under overvågning af måleinstrumenter fra Endress+Hauser.