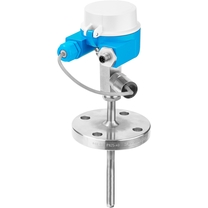 Intrinsically Safe Temperature Sensor: iTHERM ModuLine TM131
Intrinsincally safe temperature sensor (RTD / TC assembly) with manufactured thermowell or for use with existing thermowell. An optional head transmitter with all common communication protocols – Bluetooth® technology inclusive – and special features like iTHERM QuickNeck for tool-free, easy recalibration, vibration-resistant and fast-response sensor and thermowell technology (iTHERM StrongSens, QuickSens) as well as hazardous area approvals ensure enhanced measurement accuracy and reliability.
Measuring principle

Resistance Temperature Detector

Characteristic / Application

metric style
modular temperature assembly
universal range of application
suitable for hazardous areas
with neck or QuickNeck
incl. thermowell / protection tube (metal) or to be installed into thermowell
can be used with StrongSens, QuickSens insert
for fast response times

Thermowell / protection tube

welded protection tube or to be used with thermowell

Insert / probe

mineral insulated (MI), flexible

Outer diameter protection tube / Insert

Thermowell:
9x1,25 mm
11x2 mm
12x2,5 mm
14x2 mm
16x3,5
1/4" SCH80
1/2" SCH80
1/2" SCH40

Max. immersion length on request

Material protection tube/ thermowell

316 (1.4401)
316L (1.4404)
316Ti (1.4571)
Alloy 600 (2.4816)
Alloy C276 (2.4819)
Alloy 446 (1.4749)
Alloy 321 (1.4541)
Sheath PTFE
Sheath Tantal

Process connection

Male thread:
G3/8, G1/2", G3/4", G1"
NPT1/2", NPT3/4", NPT 1"
M14x1.5, M18x1.5, M20x1.5, M27x2, M33x2
R1/2", R3/4"
Female thread:
M20x1.5, M24x1.5
NPT1/2"
Cap-nut:
M20x1.5, G1/2", G3/4"
Compression fitting:
NPT1/2", G1/2", G1"
Flange:
DN15 PN40 B1, C
DN25 PN20, PN40, PN100 B1, B2, C
DN40 PN40 B1
DN50 PN40 B1
ASME 1" 150 RF
ASME 1" 300 RF
ASME 1 1/2" 150 RF
ASME 2" 150 RF
ASME 2" 300 RF

Tip shape

straight
reduced
tapered
optimized for quick response times

Operating temperature range

PT100 TF StrongSens:
-50 °C ...500 °C
(-58 °F ...932 °F)
PT100 QuickSensTF:
-50 °C …200 °C
(-58 °F …392 °F)
PT100 WW:
-200 °C ...600 °C
(-328 °F ...1.112 °F)
PT100 TF:
-50 °C ...400 °C
(-58 °F ...752 °F)
Thermoelement:
Typ K up to 1.100 °C (2.012 °F)
Typ J up to 800 °C (1.472 °F)
Typ N up to 1.100 °C (2.012 °F)

Max. process pressure (static)

depending on the configuration up to 100 bar

Accuracy

Class AA acc. to IEC 60751
Class A acc. to IEC 60751
Class B acc. to IEC 60751
Class special or standard acc. to ASTM E230
Class 1 or 2 acc. to IEC 60584-2

Response time

fastest response time with thermowell t90 starting at below 10 s
depending on configuration

Integration head transmitter

yes (4 … 20 mA; HART; PROFIBUS PA; FOUNDATION FIELDBUS)

Ex - approvals

ATEX
ATEX IECEx
NEPSI
IECEx
EAC Ex
CSA C/US
INMETRO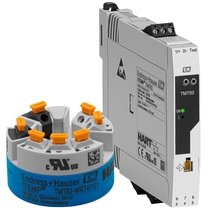 iTEMP TMT82 HART® 7 temperature transmitter
The iTEMP TMT82 is a highly reliable, accurate and long-term stable temperature transmitter for industrial processes requiring high availability. The versatile 2-channel device converts universal sensor inputs such as thermocouples or RTD into stable, scalable 4 to 20 mA output signals and HART® communication. With its built-in smart sensor monitoring capability and diagnostic status information according to NAMUR NE 107, the SIL 2, SC3 certified transmitter increases process safety and uptime.
Output

1 x analog 4...20 mA / HART

Installation

Terminal head form B, DIN-Rail housing or field mount housing

Accuracy

(Pt100) <= 0,1K (digital) + 0,03% (set range)

Certification

ATEX II1G Ex ia IIC T4/T5/T6
ATEX II3G Ex ic IIC T6
ATEX II2D Ex tb IIIC Db
ATEX II3D Ex tc IIIC Dc
ATEX II3G Ex nA IIC T6
ATEX II1G Ex ia IIC T6, II3D
ATEX II3G Ex nA IIC T6, II3D
ATEX II2G Ex d T6, II2D Ex tb IIIC
CSA C/US General Purpose
CSA IS, NI I / 1+2/A-D
CSA XP, NI, DIP I, II, III/1+2/A-G
FM IS,NI I / 1+2/A-D
FM XP, NI, DIP I, II, III/1+2/A-G
EAC Ex ia IIC T6 Ga
EAC Ex d IIC T6 Gb
EAC Ex ia IIC T6, II3D
IECEx Ex ia IIC T4/T5/T6
IECEx Ex tb IIIC Db
IECEx Ex nA II T4/T5/T6
IECEx Ex d T6 Gb, Ex tb IIIC Db
INMETRO Ex ia [ia Ga] IIC T6 Gb
INMETRO Ex d T6 Gb, Ex tb IIIC Db
NEPSI Ex ia IIC T6 Ga
NEPSI Ex d IIC T6 Gb
NEPSI Ex nA IIC T6 Gc
TIIS Ex ia IIC T6
TIIS Ex nA II T6
UK II1G Ex ia IIC T6 Ga
UK II2D Ex tb IIIC Db
UK II3D Ex tc IIIC Dc
UK II1G Ex ia IIC T6 Ga, II3D Ex ia IIIC Dc
UK II3G Ex nA IIC Gc, II3D Ex tc IIIC Dc
UK II2G Ex db IIC T6 Gb, II2D Ex tb IIIC Db
ATEX IECEx II1G Ex ia IIC T6 Ga
FM+CSA IS, NI I/1+2/A-D