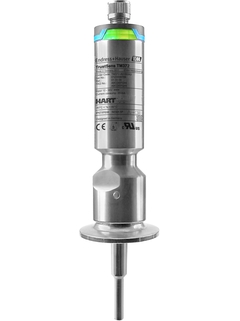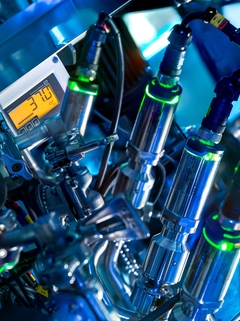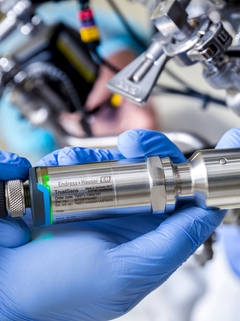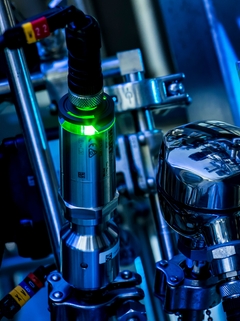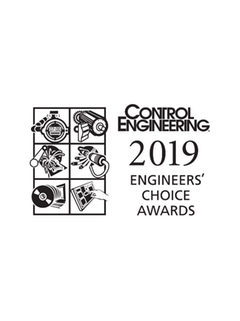 Oversigt over specifikationer
Max. process pressure (static)

at 20 °C: 40 bar (580 psi)

Operating temperature range

PT 100:
-40 °C …160 °C
(-40 °F …320 °F)

Max. immersion length on request

up to 28'' (711 mm)
others on request
Anvendelsesområde
The award-winning smart temperature probe with integrated HART® transmitter and Heartbeat Technology features the world's first RTD sensor unit capable of fully automated in-situ self-calibration. It effectively eliminates the risk of undetected non-conformities, reduces production downtime and increases product safety and process efficiency in applications of the food & beverage and life sciences industries. The device is fully compliant to FDA 21 CFR Part 11 regulations and GMP rules.
Specially designed for use in hygienic and aseptic applications in the food & beverage and life sciences industries

Measuring range: –40 to 160 °C (–40 to 320 °F)

Pressure range up to 50 bar (725 psi)

Protection class IP67/68 or IP69K

Communication: Analog output 4 to 20 mA, HART® protocol
Xpert
Specialiserede produkter

Designet til krævende applikationer
Teknisk ydeevne
Enkelhed
Loading alternative products
Succeshistorier
Medicinske autoklaver

Ny sensorteknologi muliggør automatisk rekalibrering og fjerner risici i forbindelse med batchsterilisering. Læs mere!
Enkle produkter

Nemme at vælge, installere og betjene
Teknisk ydeevne
Enkelhed
Standardprodukter

Pålidelige og robuste med lav vedligeholdelse
Teknisk ydeevne
Enkelhed
Avancerede produkter

Funktionelle og praktiske
Teknisk ydeevne
Enkelhed
Specialiserede produkter

Designet til krævende applikationer
Teknisk ydeevne
Enkelhed
FLEX valg
Teknisk ydeevne
Enkelhed

Fundamental

Få dækket dine basale målebehov

Teknisk ydeevne

Enkelhed

Lean

Administrer nemt dine kerneprocesser

Teknisk ydeevne

Enkelhed

Extended

Optimer dine processer med innovative teknologier

Teknisk ydeevne

Enkelhed

Xpert

Til de mest udfordrende applikationer

Teknisk ydeevne

Enkelhed
Måske også interessant for dig