Sikker niveaumåling i biosilo med radar - Micropilot FMR57
For at klare det barske miljø med særligt meget støv og damp kræves der produkter af højeste kvalitet.
Borås Energi og Miljø arbejder med opvarmning, køling, biogas, affaldshåndtering, vand og sanitet, energi og affaldsanlæg. De producerer også selv el på deres eget kraftvarmeværk og egne vandkraftværker. Til håndtering af den løbende drift og vedligeholdelse på de forskellige anlæg har Borås Energi og Miljø lavet en aftale tilbage i år 2006 med Dalkia, som langsigtet strategisk partner.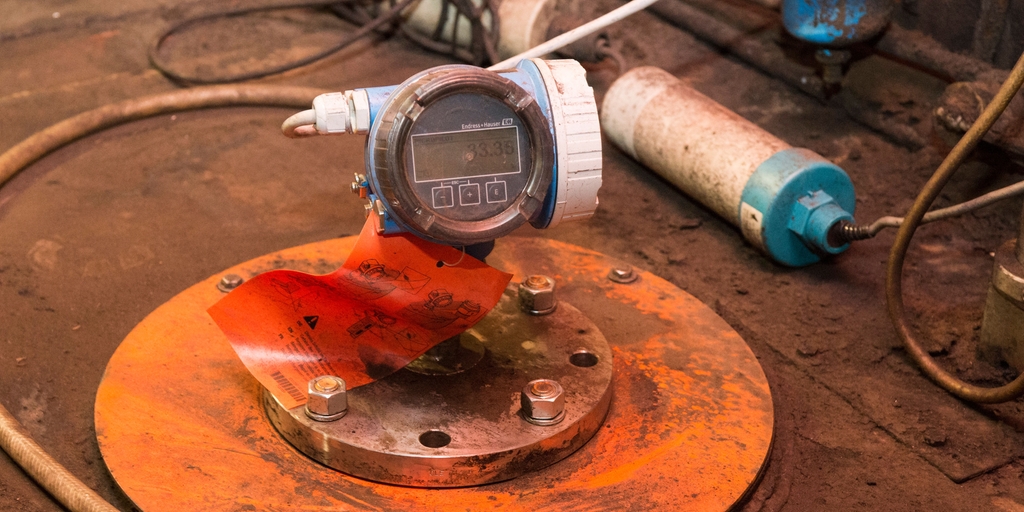 Fuld kontrol
Micropilot FMR57 er en radar, der kan leve op de strengeste krav og er velegnet til måling i høje siloer. Sensoren er robust og kan bruges i applikationer op til 400 ° C. Takket være lufttilslutning som standard, kan den håndtere selv høje koncentrationer af støv.

"Vi har nu haft denne sensor installeret i omkring et års tid og den har fungeret perfekt hele tiden. Måleren sender et signal til en PLC og
det overordnede system, så vi nemt og uden ekstra arbejde kan have fuld kontrol over niveauet i siloen", afslutter Thomas Sandman.

"Hvad der oprindeligt lignede den mest omkostningseffektive løsning var i sidste ende meget dyrt "
Et hårdt miljø
Rya varmekraftværk er Borås Energi og Miljø's største produktionsenhed til produktionen af fjernvarme, el og køling. "Her på kraftvarmeværket er vi omkring 60 mennesker fra Dalkia, som har ansvaret for drift og vedligeholdelse", siger Thomas Sandman, elektrisk installationschef hos Dalkia og fortsætter; "I biosiloen tørres træflisen før det føres ind i kedlen. Processen genererer støv, kondens og damp og det er et utroligt hård miljø. I biosiloen skal vi have en måling af niveauet af træflis, og det kan få store konsekvenser, hvis niveauet er for højt eller for lavt."
Tillid til leverandøren
For to år siden skulle den gamle måler udskiftes med en ny. Resultatet var alt andet end godt. "De personer, der var ansvarlige for at
bestille en ny måler, kiggede stort set kun på prisen og det kom vi til at fortryde. Den nye måler, som var af typen ultralyd, blev installeret i biosiloen, men da vi startede den op, kunne vi overhovedet ikke se niveauet.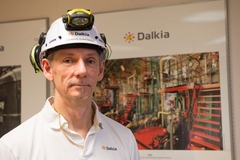 Vi fik aldrig sensoren til at virke, hvilket betød, at vi måtte bruge rigtig mange mandetimer på at føre tilsyn med installation og vedligeholdelse. Så hvad der oprindeligt lignede den mest omkostningseffektive løsning var i sidste ende meget dyrt", forklarer Thomas Sandman.
For at få styr på situationen, installerede man den gamle sensor som en midlertidig løsning og for at finde en ny og mere langsigtet løsning på problemet, blev Endress+Hauser kontaktet. "I mit tidligere arbejde har jeg beskæftiget mig meget med flowmåling, og der lærte jeg at Endress+Hauser's produkter var de bedste. Det sikreste er jo at anvende en leverandør og et produkt, som man kender og stoler på, så derfor var det meget nærliggende for mig, at kontakte Endress+Hauser", fortæller Thomas Sandman.
Produktet til barske applikationer
Den ansvarlige sælger hos Endress+Hauser var Jesper Andersson. "Det er et velkendt problem på denne type anlæg. Radaren er ikke følsom på samme måde over for støv, kondens og damp, som ultralyd. Derfor valgte vi vores niveaumåler Micropilot FMR57 til denne applikation. Måleren blev solgt med en opstart. Efter at vores serviceteknikere var på stedet og fik lavet en opstart, har de ikke behøvet at gøre mere ved måleren - alt har fungeret fint lige fra starten", fortæller Jesper Andersson.
Simple products

Easy to select, install and operate
Technical excellence
Simplicity
Standard products

Reliable, robust and low-maintenance
Technical excellence
Simplicity
High-end products

Highly functional and convenient
Technical excellence
Simplicity
Specialized products

Designed for demanding applications
Technical excellence
Simplicity
FLEX selections
Technical excellence
Simplicity

Fundamental selection

Meet your basic measurement needs

Technical excellence

Simplicity

Lean selection

Handle your core processes easily

Technical excellence

Simplicity

Extended selection

Optimize your processes with innovative technologies

Technical excellence

Simplicity

Xpert selection

Master your most challenging applications

Technical excellence

Simplicity