IIoT- og cloudløsning – med kundetilfredshed og sikkerhed i fokus
Et dedikeret team af syv medarbejdere hos Cabola ApS arbejder på at sikre deres kunder de bedste produkter og løsninger.
Hos virksomheden Cabola ApS i Kolding har kundernes oplevelse af sikkerhed stor betydning. Dette gælder både sikkerhed i ordets egentlige betydning og når det kommer til leveringssikkerhed.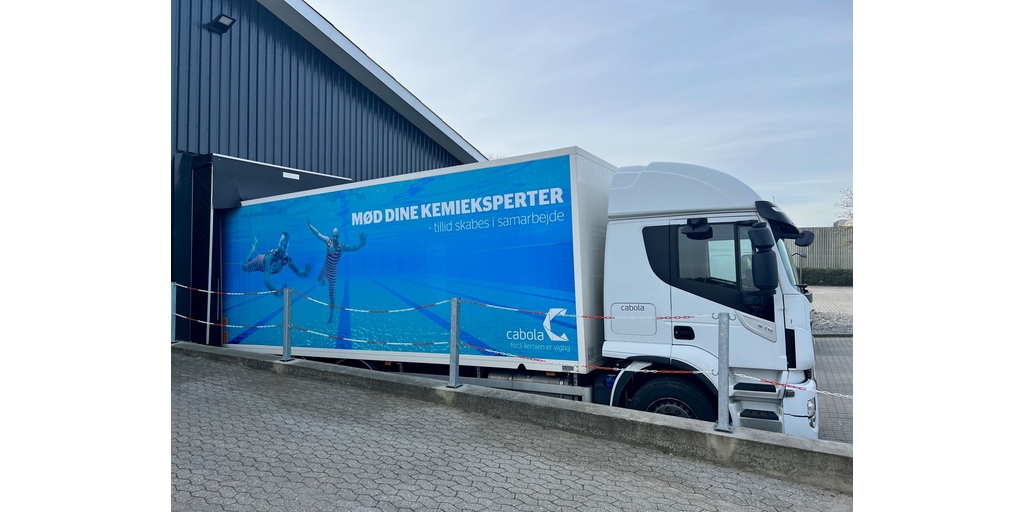 Styrket tillid og stabilitet
Den nye løsning fra Endress+Hauser frigiver tid til andre opgaver i logistikafdelingen

Mulighed for optimering af ruteplanlægningen. Dette resulterer i "grønnere leverancer"

Præcise alarmværdier giver "just in time" leveringssikkerhed og dermed "peace of mind" hos kunderne

Styrket tillid mellem kunderne og Cabola ApS som foretrukken leverandør

Udover at være markedsleder, betragtes Cabola ApS nu også som markedsudvikler

"Hos Endress+Hauser var der ikke langt fra ord til handling og to dage senere havde vi det indledende møde"
Hos Cabola ApS er "god kemi" omdrejningspunktet i alt hvad man laver. Både når det kommer til produkter, relationer til medarbejdere, kunder og samarbejdspartnere. Med udgangspunkt i god service og fleksibilitet, handler Cabola ApS med alle former for kemi og råkemi til alle typer af industrier og virksomheder. En stor del af forretningen handler om levering af den nødvendige kemi, som tilsættes vandet i svømmehaller, vandland, bassiner på campingpladser og i udendørs svømmebade.
Optimeret overvågning af kemibeholdninger
Et udviklingsprojekt havde fokus på at optimere kundernes sikkerhed for aldrig at løbe tør for den nødvendige kemi. "I samarbejde med en ekstern leverandør arbejdede vi på en løsning, hvor en sensor monteres i slutkundens tank og via mobilnettet sender den indholdsdata hjem til firmaets logistiskafdeling. Løsningen viste sig dog hurtigt at være både omkostnings- og tidskrævende. Samtidig nødvendiggjorde sensordesignet direkte medieberøring. Da flere af de anvendte kemikalier er korrosive, blev løsningen ikke langtidsholdbar. Derfor kontaktede jeg Endress+Hauser," fortæller Kenneth Laursen.
En cloudbaseret løsning
Løsningen på den forelagte opgave blev den nye "Cloud connected" IIoT radar, Micropilot FWR30, fra Endress+Hauser. Den lille IIoT radar er en smart niveautransmitter med avanceret kommunikations- og måleteknologi bygget ind i en omkostningseffektiv sensor. Sammen med den digitale online tjeneste, Netilion Inventory, sikrer den trådløse og batteridrevne niveausensor pålidelig fjernovervågning. Den sikre og certificerede løsning giver adgang til information om sensor- og lagerstatus overalt og når som helst.
Simple products

Easy to select, install and operate
Technical excellence
Simplicity
Standard products

Reliable, robust and low-maintenance
Technical excellence
Simplicity
High-end products

Highly functional and convenient
Technical excellence
Simplicity
Specialized products

Designed for demanding applications
Technical excellence
Simplicity
FLEX selections
Technical excellence
Simplicity

Fundamental selection

Meet your basic measurement needs

Technical excellence

Simplicity

Lean selection

Handle your core processes easily

Technical excellence

Simplicity

Extended selection

Optimize your processes with innovative technologies

Technical excellence

Simplicity

Xpert selection

Master your most challenging applications

Technical excellence

Simplicity